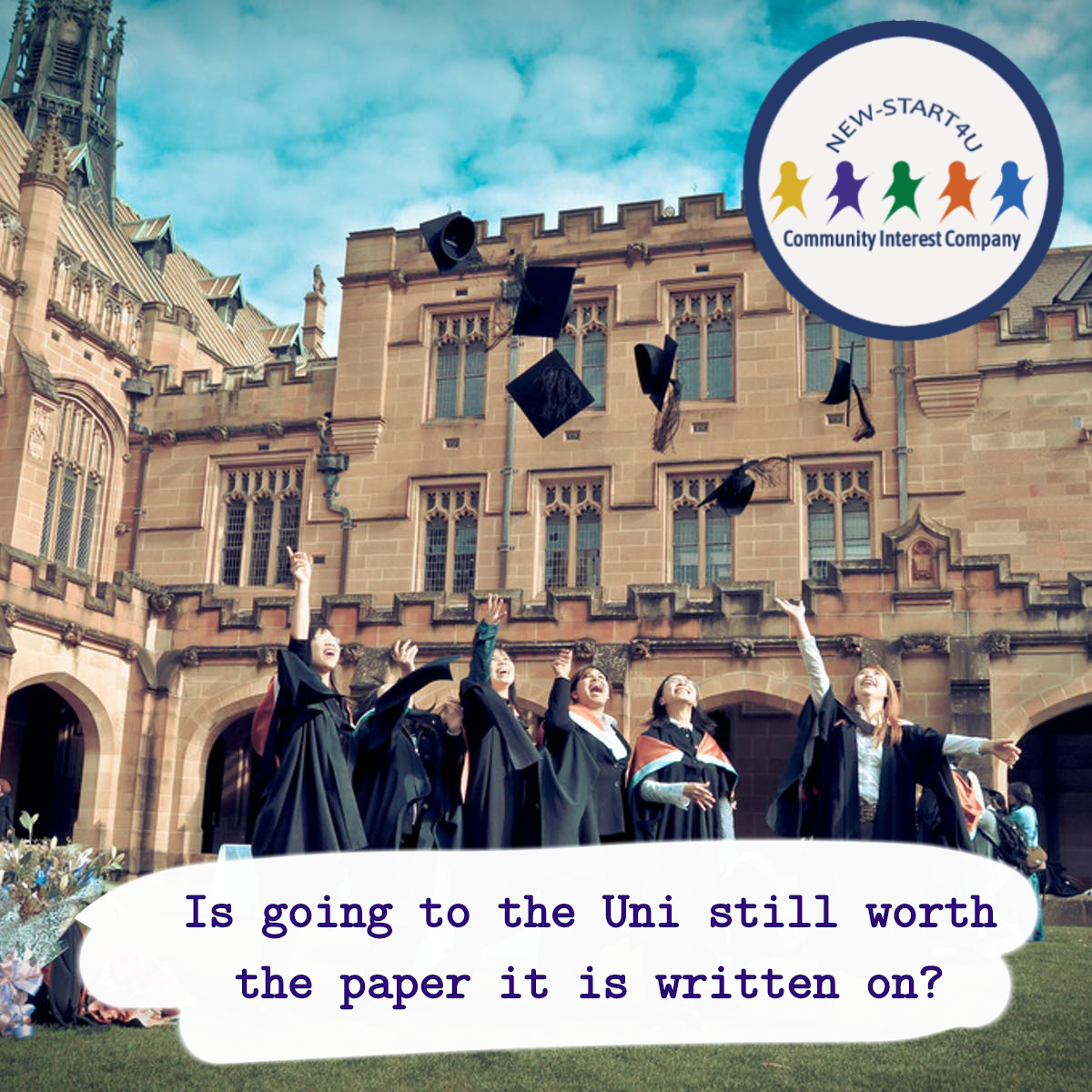 Is going to University still worth the paper it is written on?
What do you think?
In these uncertain times in which we find ourselves living in, the normal streams of education are being scrutinised from all sides. There have been some discussions around the cost of going to university against the level of teaching which is taking place these days and months ahead around the value of education which University students are receiving. So, we ask ourselves, when making the decision as to whether to go to University to study or not, we find ourselves more frequently thinking about the wrong aspects of studying rather than the most obvious persuasions.
There are always two sides to an argument.
One of the downsides to University study for some people is that they feel they must go because everybody else is doing it!  Peer pressure!
Another is that the social life is attractive but not realising that you do have to work extremely hard to obtain the qualifications in which you are applying to achieve. Once again, this has been an issue of online learning.
We feel that the decisions made should be based on the individual themselves and that their path will only affect themselves and not others.  We would like to point out the positive aspects as follows.
We all need employment at various levels during our lifetime to live an acceptable quality of life.
Each person is considered in employment based on their qualifications, experience, and character. Three main factors that are mostly looked upon when applying for or employing a candidate for a job.
By attending University, you can gain a reputable qualification, in whichever field or subject you choose to study in. After enrolling on the course, your journey in gaining such valuable experience begins when you meet new and interesting people who have a common subject to focus both your and their interests on. Learning how to interact and study in this way is hugely beneficial to building character and helps to advance people of all ages through a journey of exciting, memorable, and enjoyable moments.
Purely by entering and leaving these stages of University education, can prove that by attending a University course of any kind, the benefits outweigh the disadvantages. Even though some people do not find adequate employment, they are still considered advantageously in the elimination process at the employment application stage.  We can also see better opportunities to earn more are made available to graduates rather than those which are not. This is not always the case but in most cases this occurs.
At New Start 4 U CIC we have the very honourable opportunity to offer positions to study at a selection of Universities in the West Midlands, Manchester, Southampton and London. We can advise, help to apply, and prepare students with choice of subject, help with enrollment, and even student finance applications to enable students to live while they are studying.   We have full time and part time courses available.
What do you think?
For more information, please contact:
www.new-start4u.co.uk
024 7767 1470
info@new-start4u.co.uk