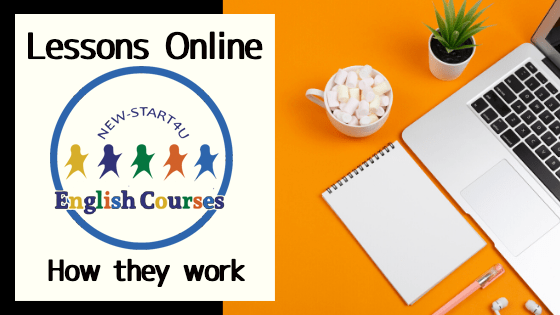 Would you like to communicate in English without problems? Smoothly and efficiently? Do you want to be able to read English websites, write emails or talk to people from all around the world?
If so, you've come to the right place!
At
New Start 4U
the English lessons take place online, via Zoom communicator.  We currently run
General English
,
Business English
and
IELTS preparation
courses.
The advantage of our courses is their form – thanks to this, you will learn English very quickly! You will no longer have to stand in traffic jams wasting your time! Commuting to the classes, and the comfortable atmosphere during the lessons, above all, the visible effects of learning are the reasons, why our students stay with us for longer and recommend us to their friends! You won't miss any more classes and in addition, you will learn at your own pace at your own level in the place and time you consider best!
"Knowledge" of a language is not everything. It's important that you know how to speak English while talking, and that's what
New Start 4U
focuses on. Our lessons are personalized and tailored to your needs. We focus on what you want to achieve and we work to ensure that you speak English efficiently and without complexes.
We will teach you to speak English freely!
When creating the courses, we have made sure that they are professional and as practical as possible. You will find the most important aspects of English here, practical everyday English so that you can communicate with other people speaking English or write an e-mail in English without problems.
Benefits of English learning at New Start 4U:
Lessons in small groups with a teacher.
All courses tailored especially for your needs
Permanent teachers or possibility of changing.
Flexible terms.
Stress-free lesson atmospheres.
Learn from 15 weeks with no hidden fees.
Only qualified teachers with years of experience.
Lessons on Zoom, plus materials on an e-learning platform.
Free materials also available between lessons.
How do the lessons work online?
The teacher provides you with an individual link to the Zoom communicator and at the same time you enter the e-learning platform. During the lesson, the teacher speaks to you (usually immediately in English) and displays materials from the platform such as:-
Language exercises,
Videos and Audio recordings
A virtual whiteboard to explain grammatical complexities
Interesting images provoking discussion
Current affairs topics and materials
Our teachers keep track of your progress and adjust the materials for you at all times. Classes last 120 minutes. After the classes, you still have access to repetition materials to continue learning by yourself at any time, or repeat the previously processed material.
If you want to join the hundreds of students who have gained new language skills and changed their lives for the better thanks to us – JOIN US TODAY!