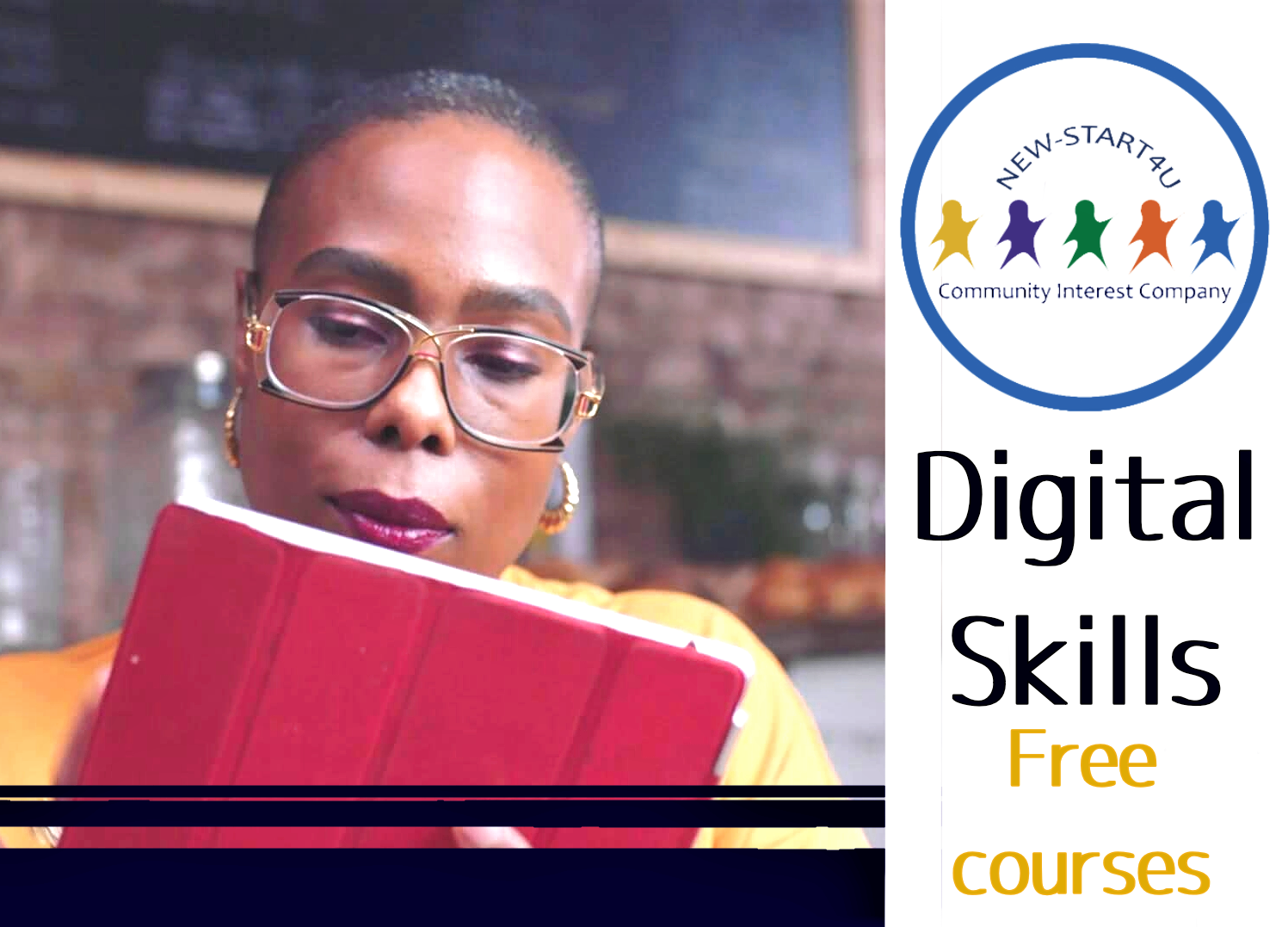 New Start 4U is a non-profit community organisation helping to support people to make the most of the online world. We work, on a day to day basis, with people from all walks of life and from all ages, so we understand perfectly well how important it is to have computer skills nowadays to work and use in everyday life. Even if you do not have the computer skills and knowledge to understand the basic programs needed to communicate and work, we have a solution!
We provide a wide range of digital skills courses, FREE for every registered member of our organisation. All of the courses are made in line with the Government's Essential Digital Skills Framework. There is over 30 free courses designed to help Beginners get started with the online basics – using a mouse, keyboard, setting up email accounts and using internet search engines – while also offering plenty to help people develop their digital skills further. These are designed as quick introductory level training so you can dip your toe in the water of online learning. In the New Start 4U office, our advisors are happy to help you get started and answer questions so that you can easily acquire new skills.
If you feel more confident with your computer & internet skills, we also have more advanced courses available for you to learn digital skills which can help you in all areas of life.
To simplify, they are divided into two main sections, called
Skills for Home life
and
Skills for Work life.
Our
FREE COURSES
cover a wide range of subjects from a
Basics for Absolute Beginners
programme within a
Skills for Home life
section:
Using Your Computer or Device(Using a Keyboard, Using a Mouse, Using a Touchscreen, Using a Computer)
Online Basics(Using the Internet, Using Online Forms, Using E-mail, Using Search Engines)
Office Programs (Creating Documents, Creating Spreadsheets, Creating Presentations)
Internet Skills (Smart Internet, How to Be a Digital Champion, Watching and Listening Online, Using a Digital Camera)
Online Safety (Keeping Your Personal Data Safe, Being Safe Online, Keeping your Device Safe)
Finding a Job Online (Job Hunting Online, National Career Service Website, Job and Interviews)
Improving Your Health Online (GP Services Online, The NHS Website)
Managing Your Money Online(Online and Mobile Banking, Make Money Work)
Public Services Online (Using Public Services Online, Universal Credit: A How to Guide)
Skills for Home life are divided into categories such as
Online Safety, Digital Wellbeing, Activities for children, Social media – apps and gaming, Spend and save
and
Basics for absolute Beginners.
Skills for Work life
If you want to start your own business, we have courses on launching, promoting and expanding business. Each of the subjects have a list of mini-courses specially designed and useful for your businesses online presence, networking or general internet work skills. More benefits? They can help you to prepare for an interview or applying for work too!
There is 68 mini courses available, and with New Start 4U all of them are FREE!
Just to name a few, you can expand your knowledge in subjects such as:
Keeping your business safe online
Gaining skills with LinkedIn learning
Promote a business with online advertising
Digital leadership
Creating habit-forming products
Working from home
Learning data science
Data visualisation: storytelling
Making recruiters come to you
Managing conflict
Jobs and Interviews
Technical support fundamentals
All the courses listed above are only examples from the database of all the available free online work life courses. If you need more information on available courses, we are waiting for you in our office.
New Start 4U
12-14 Riley Square
CV2 1LX Coventry
please contact us on 024 77671470
for more information
email: info@new-start4u.co.uk