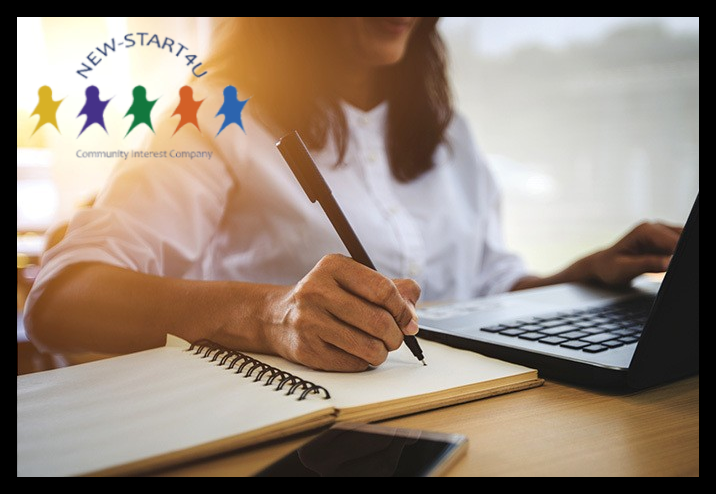 To meet the needs of our Clients and the current trends, New Start 4U launches
LIVE Online English Courses
  – A fantastic opportunity to learn English online!
Knowledge of English is not only crucial but above all necessary. Thanks to the ability of using the language, you are not only able to cope well in everyday life, but you also get the opportunity to study at prestigious universities and increase your chances within a competitive labour market.
New Start 4 U CIC offers various English courses, each of which are taught by experienced, qualified and approachable teachers. Each lesson will give you a chance to practise your English skills- grammar, reading, speaking and listening. At the start of a course you will receive access to a learning platform and a mobile app, both of these will help with your practising at home and learning in more diverse ways.
New Start 4 U offers General English and Business English language courses plus IELTS language exam preparation:
General English Course-– the course includes 2 lessons per week, the duration of the lesson is 2 hours. (120 mins)
Business English Course – teaching includes 1 lesson per week, lesson duration 2 hours. (120 mins)
IELTS Preparation Course – teaching includes 1 lesson per week, lesson duration 2 hours. (120 mins)
There is also the possibility of weekend learning on Saturdays, 1 lesson per week, lesson duration 2 hours. (120 mins)
Why study with New Start 4 U?
We offer studying in small groups, only 6-8 people in your classroom!
Learning is conducted by qualified teachers with many years of experience and outstanding results!
Individual approach to the needs and pace of learning, for each of our Students
Competitive course prices
Learning online from the comfort of your own home. You don't waste time traveling to school! The only requirements are a computer with internet access and the ZOOM program installed, available to download completely free of charge!
The wide range of learning materials we use makes our lessons not only effective and efficient, but above all interesting!
Learning in the international company of Students from all around the world!
A specialized curriculum, adapted to the requirements of our students, developed on the basis of the highest standards. You will achieve success with us!
What exactly will you learn?
The course for IELTS preparation will not only build your understanding of the structure of the exam, but also improve your English skills in various ways. You will practise exam specific exercises (describing a graph/table, writing an opinion piece, listening to complex texts and answering questions), as well as, learn to avoid commonly made mistakes, structuring your writing, practise expressing your opinion with confidence when speaking etc.
By studying business English, your formal English skills will improve at a fast rate (formal emails, letters, answering calls, making appointments, liasing). In addition, each lesson your vocabulary will grow and you will obtain new skills through the examples of current news and events in the business world. This course is suitable for anyone whose work involves customer/client interactions or formal English.
ELEMENTARY
Elementary level studies give students the most needed skills and knowledge of English that is useful in everyday life. After finishing this course, you will be able to introduce yourself and others, describe people, have a basic conversation, speak of your routine, ask questions, talk about the past and future, use words that describe time (years, seasons, months etc.).
PRE-INTERMEDIATE
The next step in every learners path is to have a full conversation with someone and express interests. Pre-intermediate studies will teach you how to talk about your likes/dislikes, obligations and abilities, describing food, places, people and comparing those, speaking of more detailed past and telling stories, planning the future.
INTERMEDIATE
Intermediate studies will sharpen your knowledge of English and teach you native level English skills, such as, phrasal verbs, phrases, collocations, commonly used vocabulary etc. After finishing this course, you will be able to understand informal speech to a high level and answer accordingly, talk about past events in great detail as well as future plans and aspirations.
UPPER INTERMEDIATE
With a good foundation in English learning, a course in upper intermediate groups will give you confidence in mastering English and will perfect your communication skills both verbally and in written language. After completion of this course, you will be able to communicate with native speakers at a high level and have conversations about complex topics, while supporting your argument and confidently presenting your opinion.
During both our online and in person lessons you will be given access to a learning platform and a mobile app, which will help you be more independent and learn in your own time. Each lesson will have a theme or a subject, which you will learn by practising speaking, writing, reading and grammar exercises. An example of a lesson would be starting with the subject 'Family' and speaking to each other about our families and relatives, then moving onto learning different words we use to speak about relatives and family ties, next reading a text that relates to the theme and finally writing a small description of your own family. Each lesson will help you practise different skills and develop yourself.