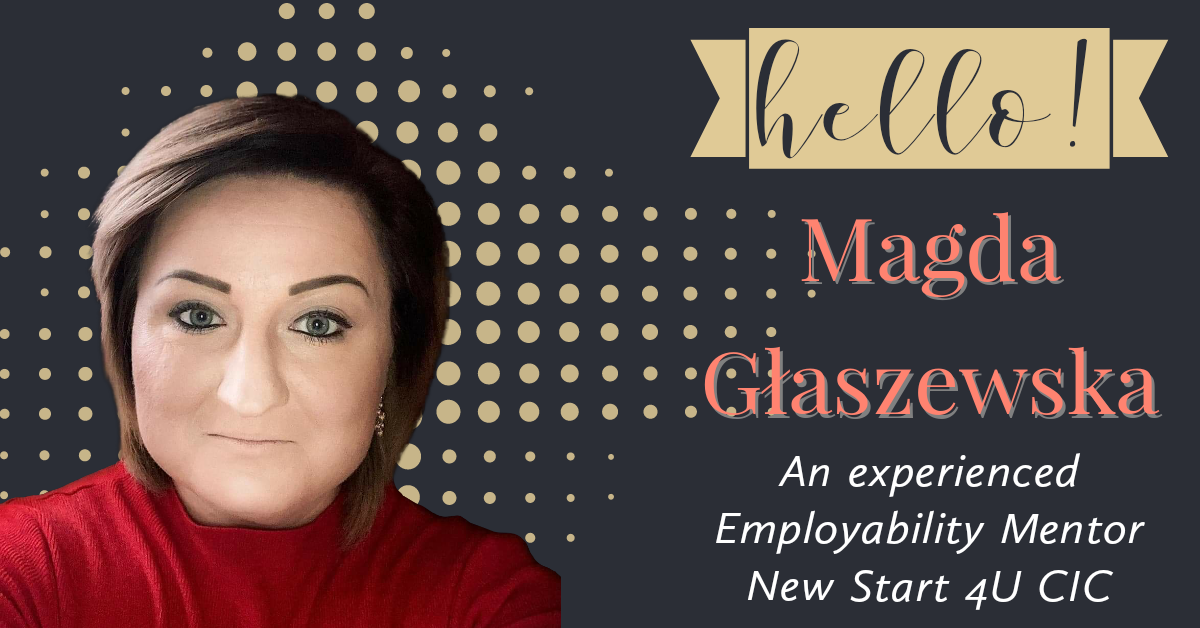 In our daily work at New Start 4U CIC we meet many people of different ages, nationalities and cultural backgrounds.
In order to meet the needs of our clients, we employ qualified staff who offer you the highest standards of assistance and support in various areas. We would like to introduce you to some of the people you may meet on your journey of working with us! Let's start with Magda, an extremely professional, qualified and empathetic Employability Mentor!
Magda has been working at New Start 4 U since 2018. As a Youth Employability Mentor and English teacher, she has been involved in several European social fund projects, providing language support, employability training, confidence building workshops and motivational workshops for unemployed young people.
Her main aim is to help inactive young people build their confidence and skills, leading to qualifications and better job prospects.
She moved to the UK in 2007. She is a qualified teacher and experienced mentor, with a Master's degree in German languages. After graduating in 2001, she worked as a translator and tutor of German and English both in the UK and abroad. She has worked as a multilingual teaching assistant, English teacher, recruitment consultant and translator in Coventry.
Currently as a Youth Employability Mentor and Tutor Magda provides support to young people aged 16-29 who are economically inactive, meaning not in education, employment or training (NEET). She supports young people in a variety of ways:


by offering career advice and individual support
organising workshops and training for self-development and confidence building
offering support in finding jobs/apprenticeships/training opportunities
teaching English
Magda works with young people to help them realise their full potential and achieve their goals. She provides tailored support to young people throughout their journey to employment, education or training.
You can benefit from Magda's knowledge and experience by contacting our office to arrange a meeting with her! She can conduct the meeting in English, Polish or German. We also invite you to her free online workshops


Working in Healthcare and Education
Confidence Building
Motivational Skills
Contact us by email at info@new-start4u.co.uk, or directly with Magda: magda.glaszewska@new-start4u.co.uk